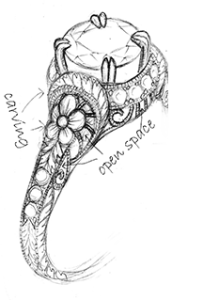 If you have a specific design in mind for your engagement ring, we can help you put that vision into reality. You can create something one-of-a-kind that reflects your style or the style of your significant other. Telling us your preferred metal, center stone shape, center stone size, budget, and sharing photos of rings that you love will help us create something truly special.
Designers will use your ideas, sketches and input to create a design concept of your ring. Having a custom made engagement ring will be a true reflection of your unique love. No one else in the world will have your same ring!
We can help you create the perfect diamond, metal color and special details to ensure your ring is as personalized and special as it can be.